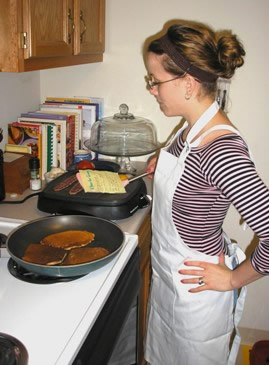 Rhyme-slinger Marla Landers-Renouf, a Yarmouth, Nova Scotia native, spent a seven-year stint in Canada's national capital and now makes her home in Salem, New Hampshire. Her educational background includes a heaping helping of studies in English (Acadia University) with a side of Scriptwriting (Algonquin College). Her writing has appeared in publications including The Gaspereau Review and Room of One's Own, as well as on CBC Radio. A sample of her non-rhyming verse can be seen here.
The seeds for Short-Order Verse were sown when a friend requested a poem for a co-worker's retirement. After whipping up several such poems for family and friends, Marla decided it was time to go public. "Short-Order Verse" was a natural fit as a business name -- in addition to conveying the concept of poems written quickly on request, it also conjures up images of breakfast, one of Marla's favorite things.
10% of sales from Short-Order Verse are donated to Citizens Energy.